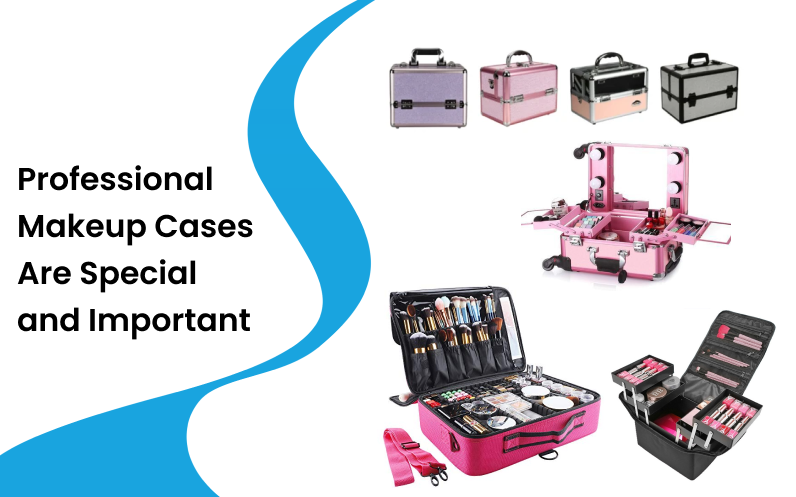 You will often see professional makeup artists, hair stylists, models, actors, actresses, and other fashion enthusiasts who are conscious about their looks and loves to represent themselves in an attractive way carrying different makeup cases like a
soft rolling makeup case

professional makeup travel case

professional makeup suitcase

makeup train case with wheels

and other types of makeup cases.
Makeup case-making companies and brands are introducing different types of cosmetic cases in the market for users so that they can select the best suitable makeup case for them. But customers are getting confused about the functionality as there are different types of professional makeup travel cases available in the market.
While selecting the professional makeup case, you must focus and consider the following aspects so that you can sort and select the best suitable professional makeup travel case for you that fulfill all your needs and requirements you expect from the makeup case. You should consider the following things while selecting a makeup case for you,
Material

Storage Capacity

Number of Compartments

Size Of Compartments

Durability

Number Of Trays and Dividers

Dimensions of Compartments

Overall Functionality
As there are a number of different professional makeup cases available in the market we are sharing some information about different professional travel makeup cases so that you don't get confused while ordering or selecting the makeup case that is ideal for your needs.
We are providing you a piece of brief information regarding the following makeup cases that will help you in understanding the different makeup cases and their functionality.
Soft Rolling Makeup Case
Soft rolling makeup cases are designed using soft materials like nylon, leather, plastic, and other materials that provide a soft outer layer to the makeup case.
Soft rolling makeup cases provide youthful vibes to your appearance. Many people opt for soft makeup cases as they are light in weight and provide a feathery touch while using them.
Also, a soft-sided rolling makeup case provides you with compartments that can be detached to use individually. You can remove the compartments or add them as per your requirements.
For example, if you are going for a short trip where you don't want to carry a whole makeup kit and you need some sort of essential makeup items only, you don't need to carry a whole rolling case with you, instead, you can remove a small compartment bag and carry it with you to store your makeup items.
The removable makeup compartments can also be used to store and carry other personal belongings while traveling.
Soft rolling makeup cases are multifunctional makeup cases, as they have different pockets, dividers, drawers, and holders to store and hold different makeup tools with optimal storage space.
Professional Makeup Travel Case
Once a legend always a legend! Professional makeup train cases are popular among all sorts of users. It is the first choice of users owing to its functionality and user-friendliness.
If you are one who wants to carry the cosmetic products and tool kit in the swag with style and design, then a professional makeup travel case is an ideal makeup traveling case to appear conspicuous amid the crowd.
Apart from making you appear stylish, a professional makeup travel case allows you to carry your cosmetic tools and kit very comfortably. It safeguards the cosmetic products hoarded from getting damaged and keeps them well organized.
A professional makeup travel case helps you carry your makeup tool kit in an organized way as well as helps you travel without worrying about makeup items. It often comes with different compartments, drawers as well as extendable trays and dividers that provide you easy accessibility. It also helps in categorizing and segmenting different beauty products and makeup tools, so that you can easily access the tool or product.
Professional Makeup Suitcase
Professional makeup suitcases are often similar to professional rolling makeup cases. It differs in terms of compartments and other features like drawers, trays, and dividers. Some professional makeup suitcase comes with these features, and some do not.
Professional makeup suitcases can be classified into many categories, you can opt for the segment that is suitable for your requirements.
Some makeup suitcase comes with single compartments but comprises holders and elastic bands to hold different types of tools and makeup kit.
Makeup Train Case With Wheels
Makeup train case with wheels is a travel makeup case that comes with wheels that accommodate you with comfort and convenience to carry your makeup kit.
Users opt for a makeup train case with wheels, as it provides you the convenience to carry makeup tools and beauty products without worrying about weight.
While traveling we often carry much more luggage and handling them invites lots of ordeals. Train case with wheels helps you get rid of such ordeals with 360-degree rotating wheels. Makeup train case with wheels comes in different sizes and segments, you can select it as per your requirement.