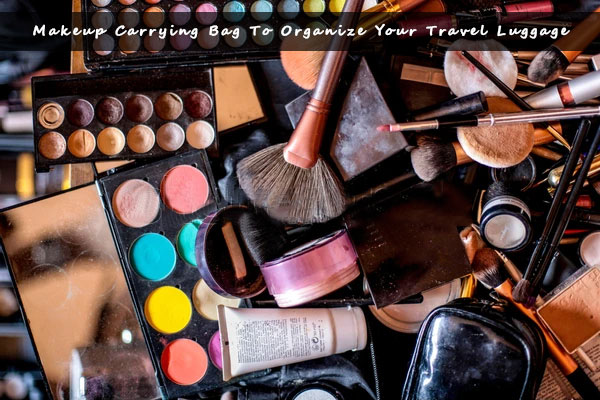 Makeup bag manufacturers are introducing a wide range of products to cater to and meet market needs. The market is getting fueled with new designs, patterns, and styles of makeup carrying bags. To cope with the market need for wholesale makeup bags, large case organizer sellers like Just Case USA, are emphasizing a lot on market trends, product quality, and design.
The wholesalers of large makeup case organizers need to understand the nerves of the market trends so that they can sell the products easily without getting them stockpiled in the godown. The expandable trays makeup case wholesale series keep on modifying the designs and styles as per the market needs and fashion trends.
The expandable trays makeup cases are an integral part of the life of professional makeup artists, barbers, nail artists, hair stylists, and other professionals engaged in the entertainment and fashion industry.
Besides carrying cosmetic tools and beauty products, makeup cases are also used to carry jewelry, studio lights, and other required cosmetic stuff.
Why Do You Need A Makeup Carrying Bag While Travelling?
To Travel With Comfort

Adds A Style Statement

Gives You a Sense Of Being Professional

Safety and Security Of The Cosmetics

To Get Cosmetic Items Stored In An Organized Manner

Easy Carry Cosmetic Products

Dedicated Storage Bag For Easy Accessibility

It Is Handy With Comfortable Mobility
In this article, we are sharing some of the popular makeup carrying bags that are widely used by customers and professionals for their convenience in carrying makeup tools while traveling from one place to another.
Though there are different patterns and styles available in the below-listed makeup case styles, here we are sharing the details about the basic styles of makeup cases to educate our readers and customers about the different makeup bag styles to understand the difference and utility of assorted makeup bag organizer range designed by manufacturers.
1) Train Cases
Train cases are popular with all professional artists like Barber, Hair Stylists, and Nail Artists. It is stylish as well as durable that provides you comfort and style with multi-functionality.
Train cases are available in different sizes and designs that come with various internal storage capacities and designs. Professional artists can choose the makeup case as per their requirements.
It often comes with extendable trays and dividers as well as different compartments for easy accessibility and extra storage capacity in an organized manner.
For extra convenience and utility, makeup bag organizer manufacturers offer train cases with studio lights to get an even-toned and precise makeup application anywhere without a basic studio facility.
2) Rolling Makeup Cases
If you are a frequent traveler and you require all sorts of makeup tools and beauty products and don't want to make any compromises with your makeup tools, then a rolling makeup case is your perfect travel partner.
It is available in a variety of designs, styles, and colors with ample storage capacity, compartments, and drawers.
Rolling makeup cases are lashed with telescopic handles and heavy-duty rotating wheels that provide you with smooth mobility and comfort as you don't need to carry them on your back or with your hands.
You can also acquire a rolling case with a studio light and chair to create your mobile studio if you are working remotely where no basic infrastructure is available.
So don't worry about the storage and weight while traveling, let your rolling makeup case handle it on its wheels, you just enjoy your work and journey.
3) Soft-Sided Makeup Bag
If comfort is your priority over style then this soft-sided makeup carrying bag is just more than perfect for you.
A soft-sided makeup bag comes with sufficient storage space with different drawers and compartments. The compartments are detachable making them multi-functional and can be customized as per the requirement.
we offer rolling makeup cases wholesale. These are heavy-duty, durable, and made from nylon. These are lightweight, convenient to carry, and easy to handle and maintain.
4) Acrylic makeup cases
Acrylic makeup cases are stylish and popular among professional artists like barber, hair stylists, and nail artists as it is very stylish giving you youthful vibes.
Acrylic makeup cases are armored with heavy-duty and scratch-proof acrylic material that provides a multi-purpose makeup case to store all sorts of makeup tools and beauty products.
It is handy and easy to handle with comfortable mobility with its heavy-duty handle with extra grip.
We also offer Hair Stylist Makeup Cases custom made at JUST CASE USA. We keenly manufacture a whole range of Barber Cases OEM Customized Aluminum Cases and Bags in stylish color combinations to keep you in vogue. So Your search for every sort of case or organizer box ends at justcaseusa.com where you get cosmetic products at the best price with exquisite quality and timely safe delivery.