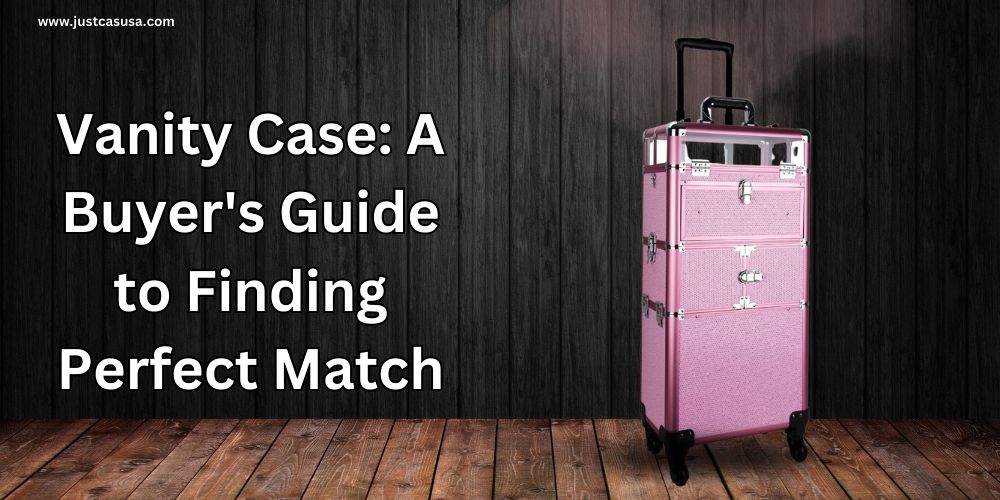 A makeup vanity case is a must-have for any budding beauty enthusiast. It helps you keep your makeup tools and cosmetics organized and keeps everything close at hand when you need to apply or touch up your makeup. With so many types and styles of vanity cases available, finding the right one can seem daunting.
Making an informed decision about the perfect vanity case for your needs is essential, and this article was written to help you do just that. Here, we provide the following:
1. A comprehensive guide into what features to look out for
2. Different types of vanity cases are available today
3. Critical tips on investing in a quality product that'll stand the test of time.
We hope this article sheds light on making a well-informed choice you will surely be happy with!
What is a Vanity Case?
A Makeup Vanity Case is essential for those seeking to store and transport their cosmetics, beauty supplies, and personal care products. A wide variety of sizes, shapes, designs, and materials - such as plastic leather or fabric - are available for consumers. A makeup vanity case offers handy storage solutions that can fit everyday life: helping you organize your items and take them wherever you go. Some of the most common types of vanity cases include cosmetic vanity cases, beauty vanity cases, and travel vanity cases. Each class is designed to serve a specific purpose, depending on the user's needs.
Cosmetic Vanity Cases: These multifunctional storage containers provide the perfect place to store and organize makeup, skincare, or other beauty items. They typically feature compartments and slots, with many available in materials like plastic, metal, or fabric.
Beauty Vanity Cases: This more extensive and stylish version of the cosmetic vanity case offers additional space plus luxurious features like mirrors, drawers, dividers, and more. Everything you need is right at hand!
Travel Vanity Cases: Consider these the mini-me version of a beauty vanity case. Lightweight and portable, with some offering waterproof protection so your contents will stay safe during travel.
Vanity Cases with Lights: Mobile lighting for anywhere you go? Yes! The vanity case with lights uses LED bulbs to brighten even the darkest spaces - plus, it comes with bonus features such as mirrors and compartments, giving access to beauty products when out on the town.
What is a Vanity Case Used For?
Vanity cases are designed to store and organize beauty products in an accessible and convenient way. Whether at home or on the go, having a vanity case makes it easier to keep your makeup, skincare, and hair care items organized. Vanity cases can also benefit travel - protecting products from damage during transit and allowing easy access when needed. Additionally, some vanity cases may feature built-in lighting, making it possible to perform beauty routines in any setting. A vanity case is an excellent accessory for those prioritizing convenience and organization regarding their beauty routine.
Top 4 Vanity Case you Should Consider
1. VT002 - 4-Wheels Professional Rolling Aluminum Cosmetic Makeup Case and Easy-Slide & Extendable Trays with Dividers
Available in 8 Different Styles / Colors:
1) Gun Metal Vanity Makeup Case,
2. JMT003 - 3 Stackable and 2-Tiers Accordion Trays 4-Wheels Professional Rolling Aluminum Cosmetic Makeup Case and Nail Case with Foundation Holder & Dividers
Available in 5 Different Styles / Colors:
3. VT007 - Professional Rolling Aluminum Cosmetic Makeup Case French Door Opening with Large Drawers and Stackable Trays with Dividers
Available in 2 Different Styles / Colors:
1) Black Matte
4. VT005 -3-Tiers Accordion Trays 4-Wheels Professional Rolling Aluminum Cosmetic Makeup Case and Nail Case with Clear Panel Foundation Holder & Dividers
Available in 3 Different Styles / Colors:
1) Black Matte
What Do You Put in a Vanity Case?
As stated above, a vanity case bag is designed to store and organize various beauty products, including makeup, skincare, and hair care items.
Here are some examples of things you might put in a vanity case bag:
Foundation: Whether you prefer liquid or powder foundation, a vanity case bag is a great place to store your favorite product.
Blush: A compact blush is another essential item that easily fits in a vanity case bag.
Eyeshadow: Whether you have a small palette or several individual pots, eyeshadow can be organized and stored in a vanity case bag.
Mascara: Keep your mascara safe and organized in a vanity case bag to prevent it from getting lost or damaged.
Lipstick and Gloss: These small items can easily fit in a vanity case bag and be organized by color or brand.
Makeup Brushes: Invest in a set of makeup brushes and keep them in a vanity case bag to keep them clean and organized.
Skincare Products: Store your favorite moisturizers, serums, and toners in a vanity case bag for easy access and organization.
Hair Styling Tools: Depending on the size of your vanity case bag, you can also store hair styling tools like curling irons, straighteners, and hairbrushes.
Overall, a vanity case bag can store a wide range of beauty products and tools, making it a versatile and essential accessory for anyone who wants to stay organized and on top of their beauty routine.
Tips for How to Organize a Makeup Vanity Case
Organizing your beauty products in a vanity case doesn't have to be a challenge. Follow these five tips, and you'll be all set:
1. Begin by sorting through and discarding expired or unused makeup products, giving yourself a clean slate.
2. Classify what you're keeping by categories like foundation, blush, eyeshadow, etc.
3. Utilize dividers and trays within the vanity case to create individual sections for each makeup product category.
4. Label compartments between different makeup types to speed up the search process when it comes time to do your beauty routine.
5. Remember to give your vanity case a regular cleaning with a damp cloth--it'll look much more attractive if it's spic-and-span!
By following this advice, you can easily manage your beauty assortment and ensure that everything stays in its place for an organized beauty routine!
Vanity Case Features to Consider

If you're in the market for a new vanity case, there are several features to pay attention to. From the size and material of the chance to its compartments and storage options, here are five elements to consider:
Size and Capacity: Depending on how many beauty products you have and how often you plan to use them, choose a vanity case that meets your needs in terms of size. For travel, opt for something smaller; if you'll keep it at home, bigger is better.
Material: Vanity cases come in various materials - from fabric to plastic and metal. Consider the weight, durability, and ease-of-clean when choosing one.
Compartments and Storage: Stay organized by looking for a vanity case with enough compartments and storage options (dividers, trays & elastic loops).
Mirror: Many vanity cases have built-in mirrors, making them perfect for applying makeup or styling hair anytime, anywhere! Look for a mirror big enough for its purpose yet small enough to make the whole package more portable.
Lighting: If you need makeup application even in low light settings, look out for a vanity case with bright LED lights – these are designed to resemble natural daylight so that shades appear accurate upon application – this ensures your contour is always looking good!
Where Can I Buy a Vanity Case?
Are you looking for the perfect vanity case to store and organize your beauty essentials? Look no further than JustCaseUSA! Our selection features many high-quality options, from compact travel cases to larger, more luxurious varieties.
We make it easy to find precisely what you need with our helpful online store – just a few clicks and your new vanity case will be on its way. Plus, our unbeatable prices and fast shipping ensure you can start using them immediately. So why wait? Start browsing our selection today, and let us help you upgrade your beauty routine.
The Bottom Line
In conclusion, choosing the proper makeup vanity case is essential for any makeup enthusiast. It helps keep your collection organized and makes it easier to apply your makeup. When selecting a vanity case, consider the type of case you need, what products you will be storing, and the features that are most important to you. With these tips, you can find the perfect makeup vanity case that suits your needs and style.