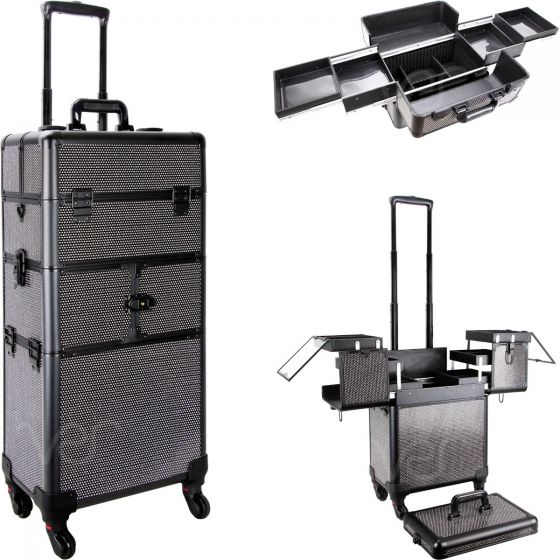 Black Crystal 4-Wheel Professional Rolling Case
Description:
Professional trolley makeup case to carry along with you easily. It has a nice storage space to cater to all your storage needs. It's a stylish piece you will carry. We ensure you a safe and secure delivery and payment system. We provide our customers with easy returns.
Beautiful new black Krystal pattern with black aluminum trimming.
It has a Heavy-duty handle for added comfort and grip
360 degree 4-wheels rolling system
Easy-slide extendable trays for easy access to the center compartment
Easy to clean interior
Removable mirror, wheels, and extra lid
Secure easy close latches with key locks
Removable Tray Dimension: 13.75" x 8.75" x 3.25" each
Easy-slide extendable trays for easy access to the center compartment
Three extendable accordion trays on each side with w/adjustable dividers
Elastic band on inner side panels in bottom compartment to hold your makeup brushes and accessories
Retractable/telescoping handle for extra durability
Telescoping handle fully extended height: 42.75"
Extendable tray dimension: 7" x 5.75" x 1.25" each
Bottom hollow space dimension: 14" x 8.75" x 12.25"
Overall case dimension: 14.5" x 9.5" x 31.25"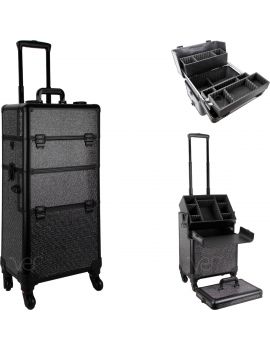 This makeup case is ideally the perfect tool for your makeup and hair products. It comes with 4-wheels, which it easily transports from one place to another, TONS of compartments to organize your products. Very spacious to store in your hair tools, sprays, and other big accessories, an extra lid so you can use the top and bottom portion separately, and the best of all its color pattern. Who doesn't like black and to top it off it comes with crystal glitter. It shines so brightly in the sun, you will have people staring at the case for days!!
So explore your imagination and organizing skills with this case and store in your favorite beauty products. You will be mesmerized by how amazing this case is.