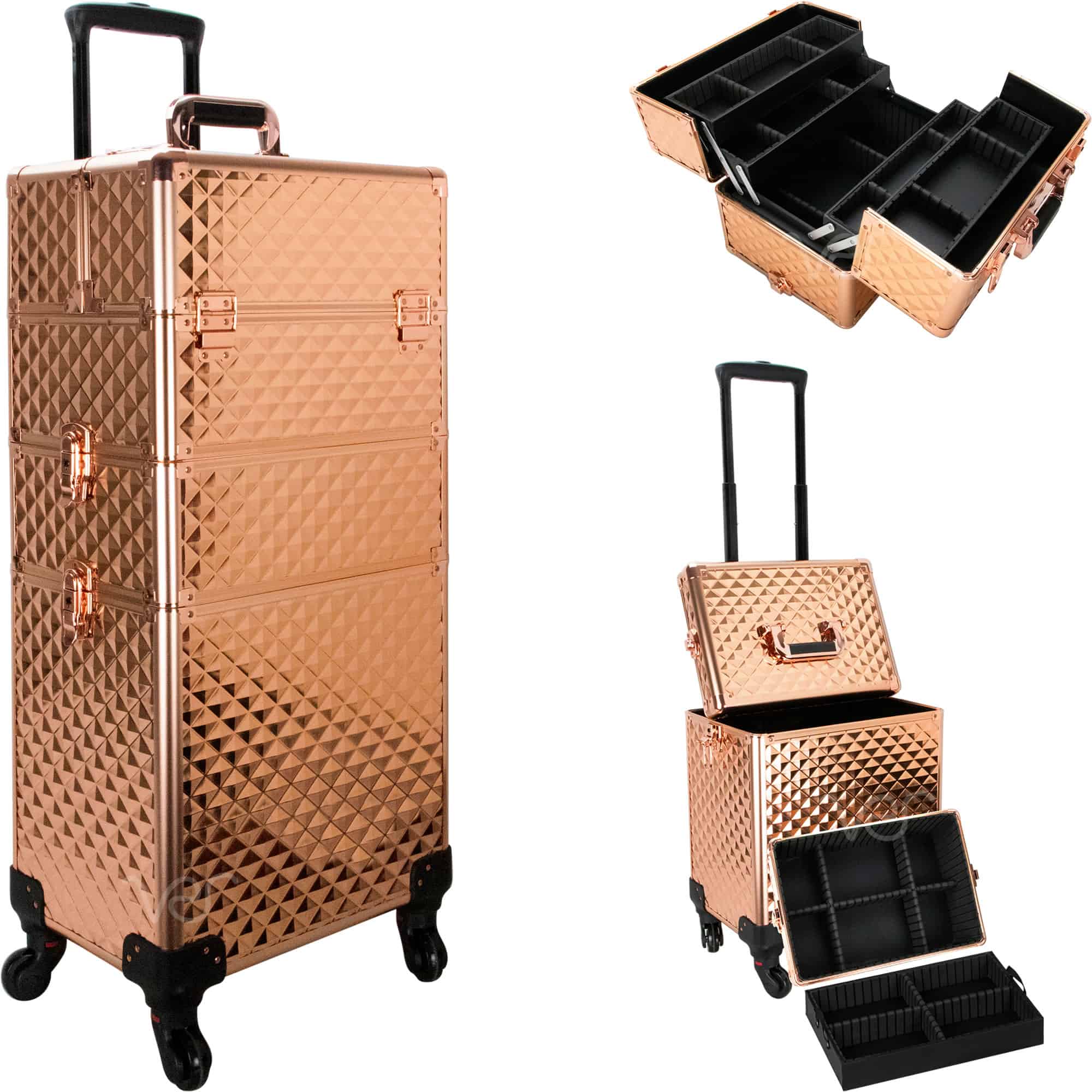 Rose Gold Diamond Rolling Case
This beautiful, high-quality makeup case can be transformed into 7 different ways. It is very spacious, and perfect for organizing your cosmetic products. They come with adjustable dividers, so you can organize your products by category. It comes with keys to secure your items and a strap to carry on the top portion of the case. Use it to your advantage and have fun with it.
Description:
7 in 1 case rolling case. Each portion can be used separately
360-degree rolling wheel system. Removable
High-quality aluminum finish and construction with reinforced steel corners for extra durability
Beautiful rose gold diamond finish with rose gold aluminum trimming
Four extendable trays with spacious interior with removable adjustable dividers
Spacious lower compartment with removable dividers
Heavy-duty handle for added comfort and grip
Two removable trays with dividers
Lock system for added security
Retractable/telescoping handle for extra durability with wheels for easy rolling
Wider opening top compartment for easy access
Telescoping handle fully extended height: 38"
Top case extendable trays dimension: 12.75" x 4" x 1.75"
Top case hollow space below trays dimension: 13.5" x 9.25" x 5.25"
Removable center tray dimension: 13.5" x 9.25" x 4.75"
Removable center inner tray dimension: 13.25" x 8.5" x 2"
Bottom case hollow space dimension: 13.5" x 9.25" x 13"
Overall case dimension: 14.25" x 10" x 28.75"
This heavy duty case is heat resistant, constructed with high-quality material and an AMAZING Rose Gold Diamond pattern.

Use it for when you travel to your makeup and hair appointments or for when you are attending Cosmetology school. This case will help you be orgnaized in many ways. Not only that, but you will be looking extra chic with this fashionable, admirable, professional makeup case.