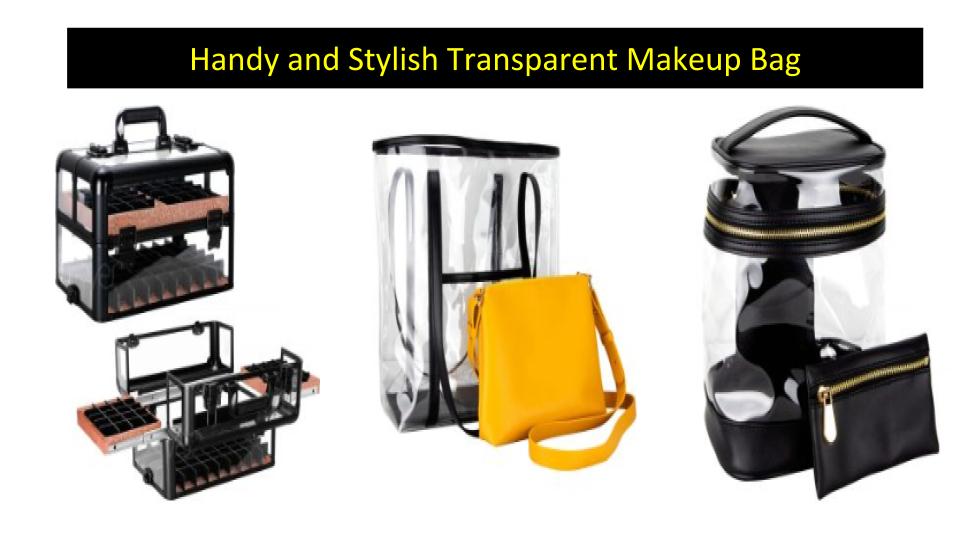 Are you a bird of passage who loves traveling but also one who loves to look good with a glammed-up face with impressive makeup on your face to make all heads turn around? Then you surely need a handy and stylish transparent makeup bag for you to carry all your makeup stuff.
Traveling has always been fun and traveling with keeping good care of yours makes it more memorable, like imagine a photo memory of your travel journey with your dull face and a travel memory with a cherished face and glossy eyes and cheeks- wow it does make you sense the adrenaline rushing just by imagining it.
But for such glossy memory photos, you need to carry a few essential makeup tools with you. And while traveling we often carry a lot of luggage with us and we often opt to carry as much as possible luggage we often look for something classy, stylish, easy to carry, and light-weighted that can be carried easily and serve our needs. Well, to meet all your requirements clear makeup cases by Justice is the best option.
We offer the best clear cosmetic bags wholesale to makeup enthusiasts, makeup stylists, and the ones looking for personal use. Transparent bags are ideal for carrying makeup tools and cosmetic kits while traveling.
Makeup transparent bags are waterproof purses that can accommodate a fair number of cosmetic tools. It helps in keeping the makeup kits well arranged in a transparent makeup bag. These clear makeup bags are very much light weighted and easy to carry. It comes with a durable and waterproof material so that makeup stuff stored in the bag stays safe and unspoiled.
Transparent Makeup Bag Features
Durable PVC Material

Light-weighted

Easy to carry

Water Proof Material

Smooth Zipper

Large Interior Space

Easy Accessibility

Easy To Clean

Washable

Ideal For All Occasions

Stylish

Protect the stored item from dust and water

Unisex

Spacious
Avoid Mess
We often mix our luggage items and mess up things when we need something. The transparent bag can be helpful to store the small stuff we are carrying with us. It also helps us to categorize the things we are carrying and for us easy to remember what we kept where.
Carrying transparent makeup with you will also help in getting the thing easily out of the bag as it is transparent. You can see through the bag and fish the thing out of the bag you needed easily without wasting your time in finding out the thing you need out of the pile.
Provides Protection
Whether professional makeup artists or makeup enthusiasts, we often carry a lot of cosmetic stuff. While carrying a lot of makeup items we often misplace them or forget them. To avoid such a situation or loss of a precious makeup item you must carry a transparent cosmetic bag so that you can keep them in it.
Storing your makeup items in a transparent makeup bag will also get protected you from dust and water. A transparent makeup bag is made up of high-quality PVC material that is durable and waterproof. So, this waterproof purse is ideal for storing makeup items.
All-In-One Bag
Transparent makeup bags are multipurpose bags ideal for everything and anything. This bag is a unisex bag design that can be used and carried by any way gender. It comes with a lot of space where any item can be stored in it.
Transparent bags are ideal for any occasion and purpose. it can be used for carrying cosmetic items, toiletries, medicines, grooming items, etc. it can be used as per the need of the user without any limitations.
Whether you are traveling for a picnic or business meeting or attending a client for hairstyling or makeup this bag can be carried to store your makeup items.
Ease and Comfort
This waterproof purse is very easy to carry and maintain. As it is made out of durable PVC material it is washable. It is very light weighted so that you can carry it with ease and comfort wherever you want.
The interior space of the transparent makeup bag is spacious which provides easy accessibility to stored items and easy maintenance for the storage space to get cleaned. It is handy and comes with removable shoulder straps making it more convenient for the user in whatever way he/she wants to use it.
A transparent bag is a user-friendly bag that comes with a zipper to keep the stored items safe. Also, it comes in different sizes and sets of transparent bags to serve the needs and purposes of different users. You can order stylish transparent makeup bags available in different sizes and transparent makeup bag sets from the Just Case USA of the assured best quality.