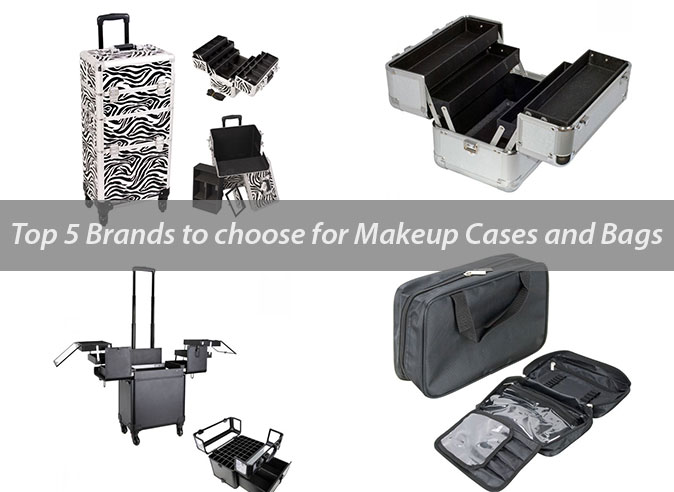 It is always fun to put on makeup, especially when your products are organized it can be really easy to find exactly what you are looking for.
The idea is to have an organized cosmetic collection, where you get arrange all your cosmetic products in one place. To keep everything in place you need a durable makeup bag that gives you enough space to store your beauty essentials and prevents damage and leaks.
With several branded makeup cases online, it becomes a little difficult to choose the right brand. To help you we have listed the top 5 brands to consider while purchasing makeup cases and bags.
Ver Beauty
Ver Beauty specializes in durable makeup cases and bags that meet your storage needs at the studio, on the sets, or during travel.
Attractive and colorful Makeup Bags
The brand offers a range of high-quality train makeup cases to help you carry your makeup stuff during travel.
To meet the needs of smaller jobs like on-the-go photo shoots, the brand offers makeup bags that are quite helpful.
They design spacious, lightweight makeup bags available in different colors to match your style and needs.
If you are a makeup artist, don't worry as the brand offers makeup bags that are not just about storing the products but also offer an extraordinary style.
They do not only specialize in regular makeup bags but also offer:
Train makeup cases
Rolling makeup cases
Soft makeup cases
Professional makeup cases
Nail artist cases
No matter what profession you belong to, you will surely find the perfect makeup case and bag in different colors, sizes, styles, and designs.
Hiker
Hiker makeup bags and cases are durable and meet the storage requirements of professionals. They are made of high-quality and durable nylon material and the soft-sided makeup case suits the needs of traveling professionals.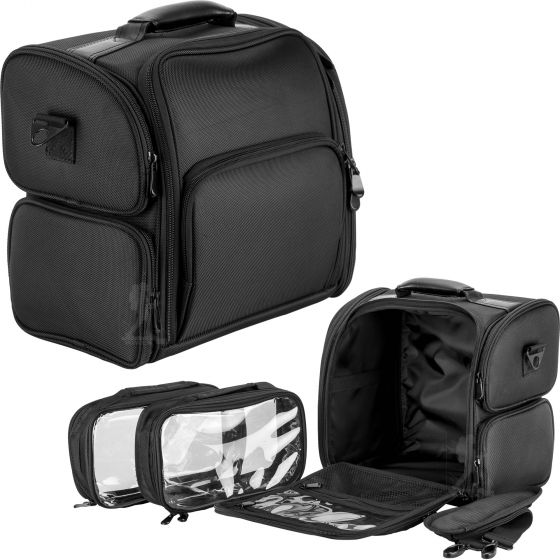 When you purchase makeup cases offered by this brand, you get comfort along with mobility. With optimal storage and sturdy makeup cases, you can safeguard your makeup essentials with ease.
JustCase
If you are just tired of finding the cosmetic item you need from the jumble of beauty items, then think of JustCase.
The brand offers you easy-to-use and organize makeup cases and bags. They offer spacious makeup cases for professionals who need to travel to manage their appointments. You can choose from
Professional cosmetic cases
Soft cosmetic cases
Aluminum cases
Train cases
The brand provides cosmetic storage with style in a soft case. They are quite similar to a duffel bag, handbag, or trendy tote. The bag comes with several dividers and a removable organizer to store your makeup items organized and safe
Some of the makeup bags this brand offers also come with slide-out easy to use organizer trays to access the cosmetics faster. With a lot of features embedded in each makeup case or bag, you are ready to go!
SunRise
Sunrise Makeup cases brings practical, adorable, and durable makeup cases in different textures and colors.
You will find their makeup cases in different sizes with plenty of organizational features to discover. They also have interchangeable beauty cases in store that help you blend tops & bottoms to attain the perfect size case that suits your storage needs. This brand has been in the industry for a while now and is one of the popular brands. Sunrise makeup cases are one of the most popular beauty cases available in the market.
Casemetic
The makeup bag offered by Casemetic is the perfect option to pack makeup essentials.
You get plenty of vinyl options for easy storage and access to the cosmetics you need. The makeup cases are made of high-quality material and are easy to clean. They are certainly the best travel partners for frequent travelers.
For makeup professionals, a branded cosmetic case represents a style statement. When you have expertise in the craft, you also need to protect your makeup tools and products, especially during travel. Certainly, keeping your investment secure in a travel case is also a significant part of your job.
When you purchase a makeup case from a brand, it certainly makes a difference. Several makeup cases might be available in the market, but they may not be made of durable and high-quality materials. Also, the brands focus on making makeup cases light in weight without compromising on the quality of the material.
They focus on the design that helps you get ample space and safety. Thus, a brand gives importance to each part of the case like hinges, drawers, latches, etc. This makes the cases last longer and offers complete security to the makeup artists.
Of course, you would never want to get into a situation where your cosmetics get damaged when you are on a job. Also, you want to unpack your cosmetics intact after a long journey. All these things are taken care of by popular brands that offer durable makeup cases and security.