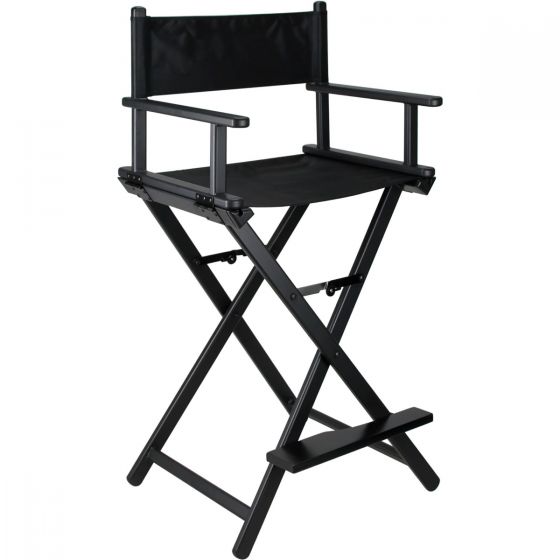 Imagine you get an appointment for an in-house call for a makeup session, and your client doesn't have a high-level chair and then your back ends up hurting since you are applying makeup on your client, while she sits on a low chair. Well, fear not Just Case has your back! See what 3 amazing chairs are available to make you look like a professional.
Why Aluminum Chair?
The material is lightweight and protects against scratches. It is stable, fashionable, well-designed, foldable, quality, and structured. It also is long-lasting and very lightweight which is easy for you to carry.
Stability:
How can you tell that the makeup chair is stable? Well, let us tell you that Just Case offers the best Ver Beauty chairs. They are stable, stationary, comfortable, and safe. The armrest on the chairs is perfectly leveled for your clients to rest their arms.
Features:
The best feature of the Ver Beauty makeup case is that you can add a headrest, but only on the Rose Gold and Black Aluminum Chair-VCH001. This feature will add more comfort for your client. Adding the headrest will help your client relax. The fabric of the chair is also one of its best features. The fabric is made with special material, that is breathable, washable, and sturdy.
Fashionable:
Ver Beauty's makeup chairs are very stylish, professional, and fashionable. Use the ultimate makeup chair at your studio, salon, at home, or when you go to your client's house for an appointment.
Quality and Structure:
The quality of this case is very sturdy and high-quality material. The resistance of the chair is very essential, if it doesn't hold your client, he or she might fall and that is the last thing you want to happen.
Tall aluminum Makeup Chair with Table and Pockets: VCH002-102
Show up to your makeup appointment with the Ultimate makeup chair. Look professional and have fun with this chair. This chair is sturdy, stable, lightweight, all black, beautiful, and scratch-free.
Beautiful new all-black aluminum makeup director chair
Professional chair for makeup industry, film industry, and more
High strength flat reinforced aluminum
The frame provides extra durability and supports up to 300 lbs
Retracable side table with edge panel to prevent items from falling down
One step to open to fold
Space-saving storage, convenient portability, and lightweight
Footrest, anti-tipping leg stabilizers
Removable side storage includes a variety of pockets to hold brushes, cellphones, tissue boxes, water, etc
Black seat and back in full piece provides extra comfort
Convenient storage bottom net
Seat Height: 29"
Seat Depth: 16"
Overall chair dimension: 24.5" x 24" x 45.5"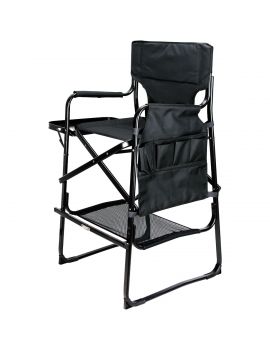 Beautifully designed rose gold Aluminum director chair. It is made up of durable material. You can use this for many purposes. It has a luxurious finish. Select the chair from us and get 100% satisfaction in terms of safe delivery as well as quality. We provide our customers with easy returns.
Product details
Beautiful new aluminum makeup director chair.
Professional chair for beauty makeup artists and motion picture directors, actors, or staff.
This chair is durable as well as sturdy.
Product with a luxurious finish.
Heat-cured, powder-coated aircraft aluminum frame
Foldable, portable and lightweight
Black Sunbrella fabric seat and back
Seat Height: 29"
Seat Depth: 16"
Overall chair dimension: 22.25" x 19.5" x 43.25"
Product Description
Durable material - It is made up of Aluminum Material.
Features: Brand new and high quality, modern style and practical.
Comfort - It has attached arm rest as well as foot rest for and added comfort.
Easy carry - The foot rest can be folded when unused and you can carry it easily by folding the chair.
Don't just think, buy..!
Specifications
Color: Black
Package includes: 1 x High Director Aluminum Chair
Beautiful new black headrest for director chair
Height adjustable to enhance comfort Stainless steel hardware
Suitable for VER Beauty foldable director chair
Ergonomic headrest with black mesh support
Overall headrest dimension (LxWxH): 20.75" x 5" x 16"