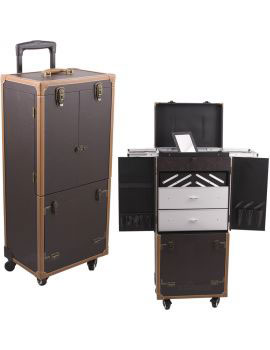 Many companies provide Professional Rolling Studio Makeup case of superior which is extremely popular amongst the top makeup artists and models. For expert makeup artists, a Ver Beauty Professional Rolling Studio Makeup case can make a huge difference as they have many uses.
You can have two-wheeled rolling makeup cases as well as four-wheeled rolling makeup cases which could be used as the floating table. You can have a single level; two levels, as well as three levels of rolling makeup cases which are conveniently distinct for different functions. The rolling makeup cases are spacious and strong, providing a professional makeup artist with lots of storage space for all the most significant makeup accessories and tools.
If you travel regularly with makeup or need to store some makeup in a planned way, then rolling makeup cases is the best option for you. These cases are perfect for professionals who do a lot of traveling for work or to perform. As a professional Makeup case has wheels, you don't need to think about the luggage weight you're carrying into that.
Get a Trendy Professional Rolling Studio Makeup Case
You can also buy a Professional Makeup Artist Case Online. There are some characteristics of the most trendy professional rolling studio makeup case. Let's go through some points:
Black matte with dimmable led lights leg mirror

Black matte with touchscreen power 3 temps led lights multimedia speakers legs mirror

Dimmable led lights legs mirror

Rose gold with dimmable led lights leg mirror

Rose gold with touchscreen power 3 temps led lights multimedia speakers legs mirror

Touchscreen power 3 temps led lights multimedia speakers legs mirror
How to Select the Best Professional Makeup Case?
The life of any makeup artist is usually location-based, so traveling a lot as well as lugging a king-size kit only to utilize some items is a normal and easily stoppable problem amongst young artists. Anybody who has been working in the specialized make-up business for a long already understands that this goes without saying that getting the best makeup case is very important. A perfectly designed and well-organized makeup case could save a huge amount of carriage space and time. Any good makeup case can certainly make your work much easier. However, it is never easy to select an ideal makeup case for any particular assignment.
Selecting a perfect alternative isn't about only having a safer and more reliable way of protecting your investments in cosmetics. This is also about having an easy procedure to take a professional cosmetics business towards success quickly, working very well under different conditions, etc.
Rolling Makeup Case
An expert makeup artist or a makeup freelancer generally has multiple professional rolling studio makeup cases for work. In case, you have bigger jobs, like television, film, or going for long-distance traveling, you need to have a rolling makeup case. These rolling makeup cases come with cabinets and drawers providing ease to establish a huge collection of makeup accessories and tools. It features handles for stress-free direction control as well as wheels to easily move them from one place to another. The finest part is inside of this case is well-organized for you as well as you only need to add the products in a way that best fits your makeup applications and clients.
Conclusion
Being a makeup artist, business is most important for you. Makeup Creation rolling expert cosmetics cases offer the correct storage space that you require to understand exactly where all brushes and color palettes are placed. Removable dividers, multiple trays, and copious compartments of different sizes help professional makeup artists using even the biggest collections to get all tools on hand, ready to use, as well as ready-to-convert clients.