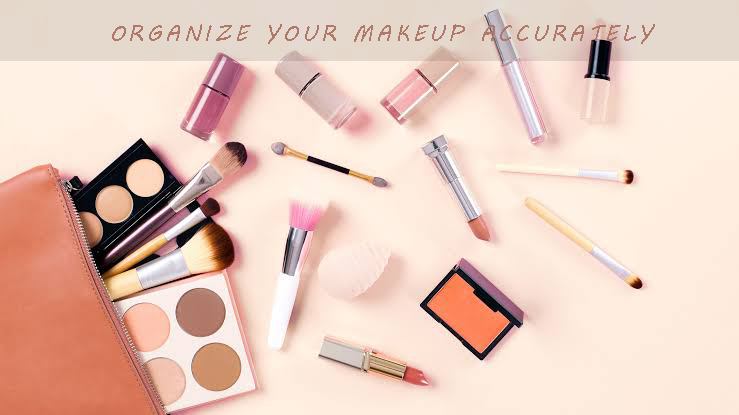 Women love makeup and most of them own a collection of different makeup products. They carry their makeup essentials wherever they go. On the other hand, there are a lot of women who are makeup artists or work in/run beauty salons.
Makeup is not just about using makeup products, but also about organizing the makeup collection. Women may have a range of makeup products like nail polish, eyeliners, different shades of lipsticks, etc. It is important that you keep your products organized, so you can easily find what you need in an instant.
Organize Makeup Collection for Better Management
It may not be easy to keep your makeup collection organized.
But we have designed the perfect makeup bag to help you get organized.
High-quality black leatherette quilted gold trunk bag

Removable shoulder strap

Brush and extra storage with a zipper under the lid

Two pockets on the inner center compartment

Spacious interior to fit larger tools and accessories

Overall case dimension: 9.25" x 5.5" x 7.5"

Quantity / Carton: 12 pcs.
You can organize your makeup collection properly, by investing in the right makeup organizer bag, suitable for your needs.
Whether you are a professional makeup artist or just use makeup essentials for simple touch-ups, a makeup organizer bag is always going to help you find what you need.
There can be a lot of confusion as to what type of organizer you need to buy. Well, this article will help you learn the tips to clear your confusion and pick the right organizer.
Makeup Collection size
One important factor you need to focus on while buying a makeup organizer is determining the size of the makeup organizer.
Also, some of you may like the idea of buying an organizer that accommodates all products in the collection. Well, this may not be a good idea as your collection may expand with time.
When deciding on the perfect makeup organizer make sure it lasts for a minimum of two years.
Makeup organizer for frequent travelers
High-quality polyester and nylon construction for extra durability with padded semi-flexible lining

Zippered pockets

Well designed

Ideal to keep your kindle, mini book, book, etc.

Four external pockets dimensions: 4.75" x 4.5"/ea

Four external mesh pockets dimensions: 4.75" x 3.75"/ea

Overall bag dimension when collapsed flat: 11" x 6.5" x 0.5"
If you are a professional makeup artist and travel frequently for your makeup sessions, then just a normal makeup organizer won't help. You need a travel makeup organizer to avoid last-minute
hassles. Our nylon travel makeup organizer collection is perfect for those who need an organizer to organize and protect their makeup collection.
The objective behind makeup collection
If you just keep your makeup at home, a countertop makeup organizer bag would benefit you.
It is always easy to go with last-minute touch-ups and there are these small-sized pouch makeup cases. You can easily slide this small organizer into your purse.
Safety comes with a locking system
New interchangeable series. Attachable to any "E" series rolling cases. This line will allow the customer to mix and match any "E" series cases according to their needs. The most affordable way to customize your beauty case

High-quality aluminum finish and construction with reinforced steel corners for extra durability

Beautiful new silver dot pattern finish with silver aluminum trimming

Heat resistant exterior material keeps the case cool and protects your cosmetics

Three easy clean extendable trays

One large mirror which doubles as a lid
Safety comes first and the same goes with makeup organizers as well. Secure your cosmetics when traveling with our makeup organizers. To ensure the safety of your makeup collection, you can pick the makeup case with a lock, which comes with user-friendly locks.
These locks are password-based locks and you just need to enter your password to open it.
The idea of buying the perfect makeup organizer bag is solely based on your needs. Those having a limited makeup collection would think of buying a small organizer. On the other hand, for those who are professional makeup artists, it is recommended to invest a little more in getting extra storage space. They can invest in organizers with more compartments that accommodate a large makeup collection. There is a wide range of options available for you to decide on purchasing the makeup organizer bag that suits your needs.
Why you should invest in makeup organizer bags?
A lot of women do not give importance to organizing their makeup collections. They may not think about the hassle they may face, when not finding a particular makeup item at the last moment. So, it is time to get organized.

When you invest in a perfect makeup organizer, that gives you ample space to store your skincare products or makeup accessories, you are all set to attend an event or go on a vacation.

You can categorize the essential makeup products and the ones that you use only on special occasions.

Investing in a makeup organizer also gives you an idea of the shelf life of makeup products. This lets you discard the ones that expired.

When you invest in a makeup organizer, you get to keep the makeup accessories organized. It helps you choose the tools that you need often.

Invest in a washable travel makeup organizer, to help keep it clean and get rid of accumulated bacteria.
Conclusion
Ver Beauty has some great makeup organizers that will help you be organized, and secure your makeup collection. Depending on what fits best for you, we got you covered!