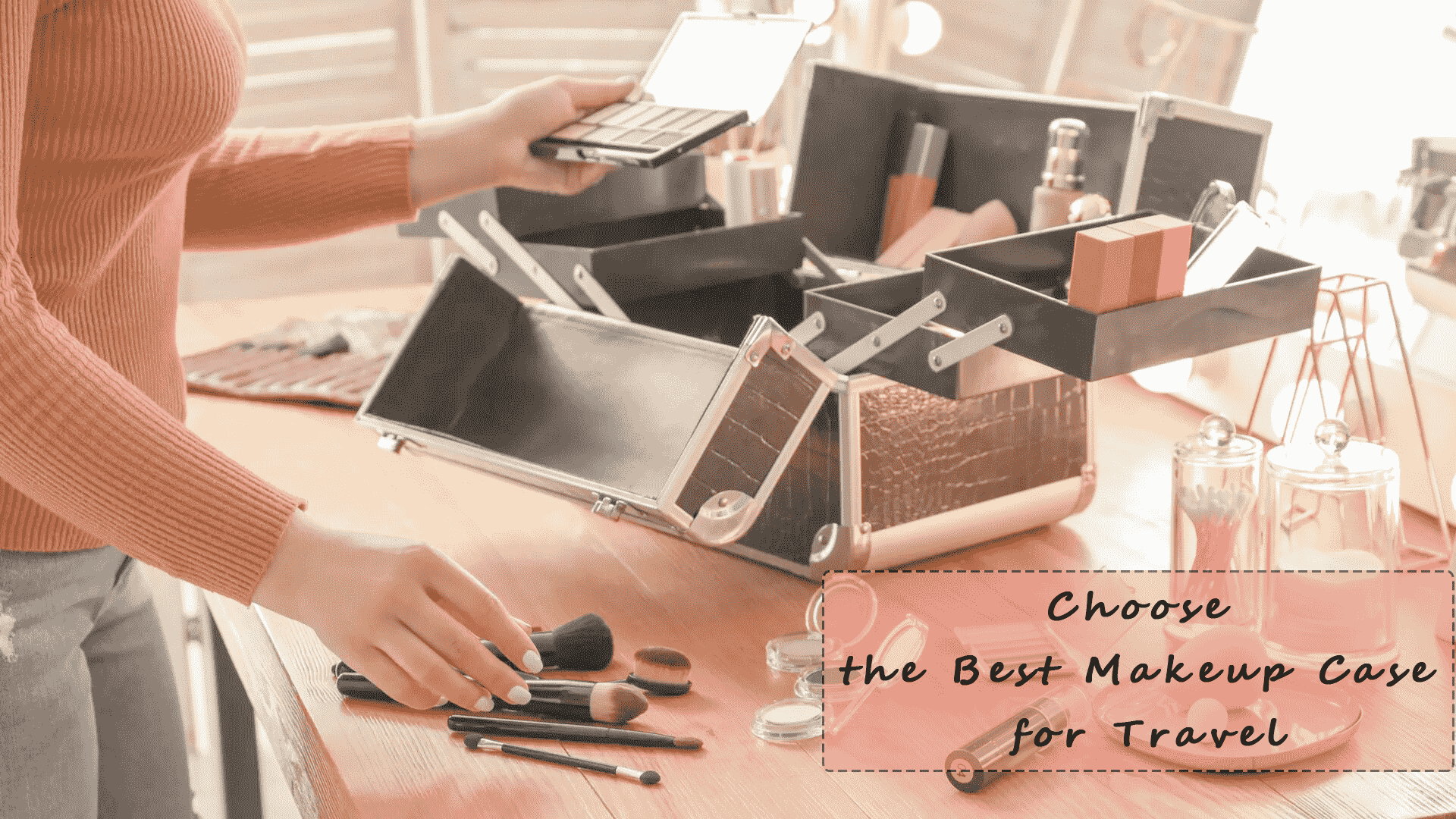 A makeup train case is a must-have accessory when traveling. It's not just about matching your style. Rather, it's all about having a centralized location to store your makeup more effectively.
The best makeup cases for traveling help you to keep your makeup essentials organized while on the go. It also protects your valuable makeup and tools from damage while traveling.
Makeup is not inexpensive! Plus, it's difficult to get makeup out of your clothes, and if it happens to explode in your purse, it's even more difficult to clean. In the worst-case scenario, you may be forced to throw away your purse and purchase a new one.
So, selecting the best makeup case for travel is critical in order to keep your makeup handy and secure.
Consider the following factors when choosing the best makeup case for you:
When selecting a makeup case, there are a few factors to consider before making a final decision. You want to make sure you get the best makeup case possible, not just a container to throw your belongings in.
But we understand that with so many makeup case options on the market, it can be difficult to choose the best one; that's why we're here to help you.
After conducting customer preference research, we discovered the five characteristics that make the best travel makeup bags:
Size
Here are a few questions to ask yourself to determine the size of your makeup bag:
How long will you be traveling?
How glam do you intend to be during your trip? Are you going camping or to a photo shoot on the beach?
Are you only bringing makeup for yourself, or are you also bringing makeup for your friends and family?
Are you going on a personal or professional trip as a makeup artist?
Once you've answered these questions, you should have significantly narrowed your options. It will be much simpler to select a makeup bag from there.
Security and durability
If you want to avoid broken foundation bottles and cracked eyeshadow palettes, you'll need a makeup travel case that can protect your beauty products. If you want durability and security, hardshell makeup bags and cases are the way to go. However, these are more expensive than most makeup cases.
Some soft-shelled or soft-sided makeup cases lack structure but provide cushioning for your products. If you don't have glass foundation bottles, a soft-shelled cosmetic case will keep your cosmetics safe.
The Number of Compartments
If you're a makeup artist or a professional, a rolling makeup case with multiple compartments is a must. Nothing beats a makeup case with tons of pockets, pouches, and dividers. Instead of throwing your makeup brushes, cosmetics, skincare products, and toiletries into a bag, use these to organize them.
Having a lot of compartments may appear overwhelming to some, but it actually helps you segment things and find things easier once you're ready to unpack. According to experts, having more compartments is preferable to having too few.
Versatility
Another factor to consider in a makeup case is versatility and multi-functionality. We may want to bring non-makeup items with us on our trip, and we need something that can accommodate those items as well.
Or perhaps you aren't always on the go and require a makeup bag that you won't have to unpack all the time. Something that you can leave alone and will not look out of place in your home.
Whatever the reason, versatility is an important consideration in any makeup application. Even if you don't travel with your makeup all the time, your cosmetic case should be such that it can help you organize your makeup essentials at home or at the salon.
Style
Of course, functionality takes precedence over all else, but style is an added bonus. Nowadays, on the market, different types of stylish makeup cases are available.
So it becomes easier for you to select the one that matches your style. The best makeup cases from Just Case are ideal choices for you as they are both functional and fashionable.
Where Can I Find a Good Makeup Travel Case?
There are numerous options available online for purchasing a makeup travel case and for makeup storage in general. However, they are not all created equal. Just Case USA is the place to go if you only want the best quality at the best price.
JustCaseUSA offers high-quality makeup cases and trolleys at very affordable prices. Our makeup cases are available in a variety of shapes, sizes, and designs.
We have sleek black soft-sided train cases as well as a hard-shelled train case. They have a ton of storage space and compartments to help you organize your makeup and other beauty tools.
We also offer stylish makeup cases that you can carry to any party or client's place. Our makeup cases with studio lights and mirrors can help you serve your clients more efficiently.
We do offer free delivery services in the nearby areas. An easy return policy is adopted by our company. As a result, if you discover a flaw, you can easily return the product.
So, are you ready to begin organizing your makeup collection? If yes, then purchase a makeup case or organizer from Just Case USA today to transform your makeup clutter into a stunning makeup display.
For any help or assistance, you can reach us at sales@justcaseusa.com.
Thank you.