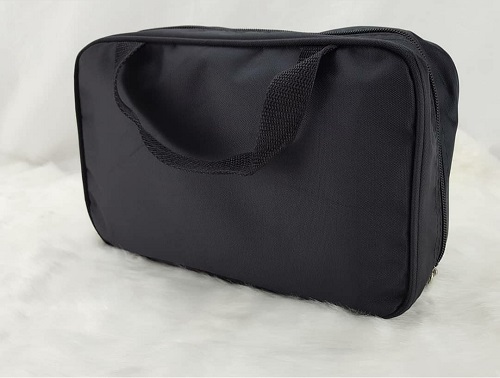 Ver Beauty and Casmetics Cosmetic Bag Collection
Ver Beauty and Casmetics have a great cosmetic bag collection. Some cosmetic bags come in sets, purses, and others come in large bags for more storage and organization. They come in black nylon or clear vinyl plastic, high-quality material. These bags come in stylish, well-designed, and very spacious. You may use these bags when you travel, for school, for your makeup appointments, or for storing your products at home. Read more about the amazing products that Ver Beauty and Casmetics have in store for you.
Amazing Cosmetic Bags
1) 5-in-1 Makeup Mesh Bag Set: PC08BK
It can be stressful organizing your cosmetics, and Ver Beauty has made it easy to store your favorite products. Our 5-in-1 Mesh Makeup Multipurpose Bag Set is perfectly designed to be one-of-a-kind. This makeup set is designed with 5 different bags. Each bag is unique so you can categorize your favorite products in each bag. Not only does this set comes with a distinctive style, but it is constructed with high-quality material to protect your favorite cosmetic products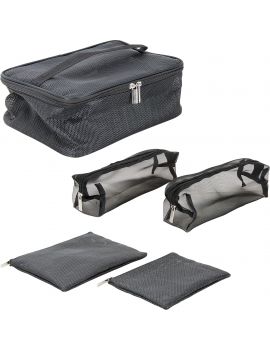 High-quality, eco-friendly mesh material

5 different bags for different use

2 metallic pencil bags

1 small flat nylon mesh bag

1 medium flat nylon mesh bag

1 large nylon mesh bag

Small bag dimension (LxWxH): 7.25" x 6"

Medium bag dimension (LxWxH): 9" x 7"

Metallic mesh pencil bags dimension (LxWxh): 8.75" x 2.5" x 3.5"

Large mesh bag dimension (LxWxH): 10" x 7.75" x 4"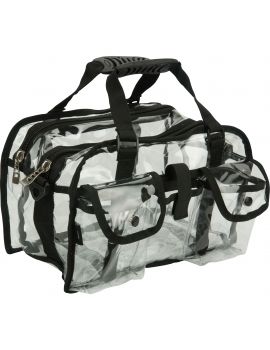 Sometimes it is hard to find a lip pencil or tweezers in a large cosmetic bag, especially when you have a lot of cosmetic brushes and products stored in one bag. This clear cosmetic bag is well-designed to help you store, organize and find what you need. Not only will this bag help you to find your cosmetics and hold your favorite products, but you will look fashionable while carrying it.
High-quality clear vinyl and construction for extra durability

Two flip-top external front pockets with magnet snap for extra storage

One external pocket with a Velcro elastic band to hold your mobile device

Two spacious interiors to fit larger tools and accessories

Adjustable as well as the removable shoulder strap

Heavy-duty handle for added convenience

Easy-to-clean interior and weatherproof

Overall case dimension (LxWxH): 13" x 8" x 8.5"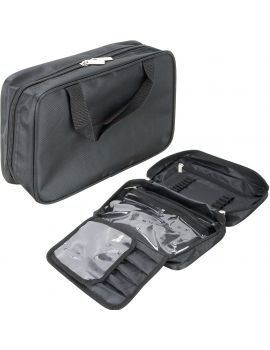 Will you be traveling soon? Are you in need of a storage case that doesn't take up too much space? This makeup organizer is the PERFECT bag for traveling. It can hold your makeup brushes, and lipsticks, to lose cosmetic products to makeup palettes. It is well designed to hold in as much as you can of your favorite cosmetics, yet takes up a small amount of space in your luggage.
High-quality nylon construction for extra durability

Various types of compartments to make you organized

Inner zipper pouch to keep your palettes safe

Two handles for carrying comfortably

Compact and smart design

Soft and durable pouch

Overall dimension (LxWxH): 11" x 7" x 3.5"
Look stylish with this unique quilted purse/makeup bag. This makeup bag has a large center compartment with pockets to store extra loose cosmetic products. You can use this as a purse or as a makeup bag, either way, you will look chic in this fashionable bag.
High-quality black leatherette quilted gold trunk bag

Removable shoulder strap

Brush and extra storage with a zipper under the lid

Two pockets on the inner center compartment

Spacious interior to fit larger tools and accessories

Overall case dimension (LxWxH): 9.25" x 5.5" x 7.5"
5) 2-in-1 Tote Handbag with Purse: VB003-11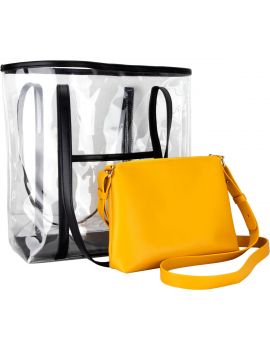 Ver Beauty has come up with a really voguish tote with a purse inside. This clear tote is perfect for traveling, beach parties, theme parks, baseball games, and more. Stash in your favorite makeup products, personal items, or snacks in this cute large clear tote. Not to mention you can mix & match your outfit with its yellow-mustard purse.
Crafted from high-quality PVC material

Two-piece combo set

Removable leatherette purse with adjustable shoulder strap

Easy to protect your items from water, dust, etc

Spacious

Purse dimension: 8.5" x 6.5"

Tote dimension: 11.25" x 5" x 12"
Conclusion:
With Ver Beauty and Casmetics' cosmetic bag collection, you will find the best, well-organized bags in town. Travel without having to worry whether your favorite products are not secure or not. These brands offer high-quality, secure, spacious, and well-designed makeup bags that will be suitable for you.