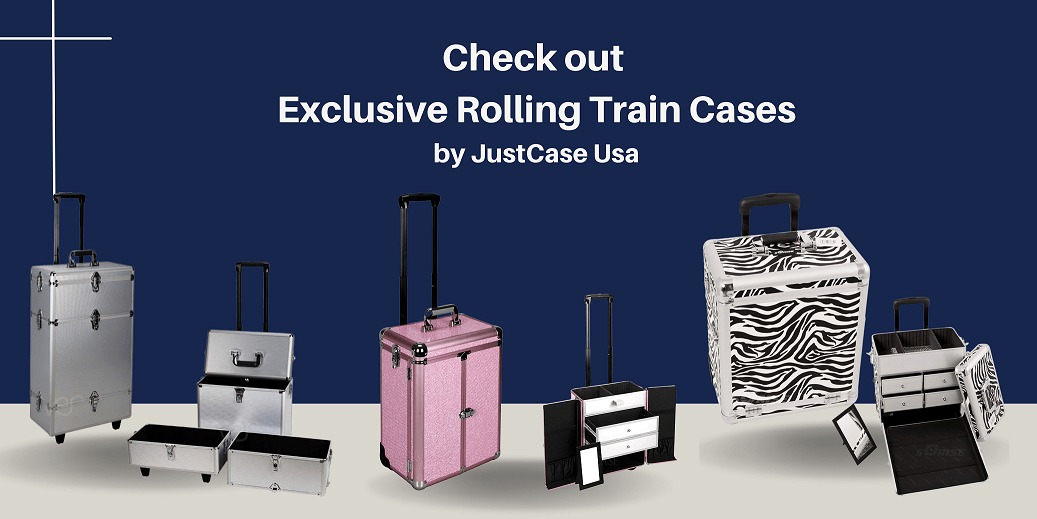 For our makeup and beauty lovers, if you want to invest in something worthwhile, get a super-efficient and best rolling makeup case. Having a set box that you can organize effectively will help you divide your things much better.
You don't have to be a pro beauty expert to understand how to arrange your belongings. It is a good idea to think about investing in cases that keep your belongings safe, whether you are on the road or at home. These cases include little trolley-style wheels that can let you transfer your things without fear of damage.
Have a look at our exclusive rolling case, which will allow you to travel in elegance while also ensuring that the contents are secured and safe.
Justcase Professional Makeup Cosmetic Rolling Train Case
This stylish and elegant crystal pink rolling makeup case by justcaseusa is ideal for professional makeup artists and women or girls, who have a large collection of makeup essentials. It has enough storage area to organize your makeup in an efficient manner
It comprises 2 Large Drawers, Mirror, and French Door Style Front Panel.Its dimension is 14.5 x 9.5 x 21.75.Let us check out the features of this pink rolling makeup case
Features:

High-quality aluminum finish and construction, with reinforced steel corners for further durability.

Two aluminum-finished drawers.

Removable mirror inside the case lid

Inline skate wheels for convenient rolling

The front lid contains a rubber-band connection for brushes and other beauty accessories

C6201 - All Black Leather-Like Professional Rolling Makeup Studio Case with Lights & Mirror Online

This fabulous new black leather-like professional rolling makeup case has a heat-resistant exterior that keeps the case cool and your cosmetics safe. It serves as a full-service vanity for professional makeup artists. Its overall case dimensions (LxWxH) are as follows: 12.25" x 8.75" x 20". Check out its features.

Wheels for convenient mobility

Retractable/telescoping handle for added durability

Heavy duties handle for added comfort and grip

Heavy-duty handle for added comfort and grip

Center tray system that may be detached

Rear compartment dimensions

Two side compartment dimensions

Four cushioned trays

Two brush or accessory holders

For increased security, a lock and key system is added

Six 40-watt lights are illuminated by a mirror

Light dimmer control

C6601 - Silver Stripe Lightweight Professional Rolling Aluminum Cosmetic Makeup Case Online

Our silver stripe aluminum makeup case is composed of high-quality aluminum and has reinforced steel corners to increase its durability. It is great for professionals because it is lightweight and easy to carry when on the go. The overall case dimension is (LxWxH): 17" x 9" x 28.5"
Stunning new silver stripe finish with silver aluminum trim

The handle is made of heavy-duty material for improved comfort and grip.

Additional security is provided via a padlock key system (Padlock not included)

Wheels for convenient mobility and a retractable/telescoping handle for added durability

Height of telescoping handle when fully extended: 44"

E3305 - White Interchangeable 3-Tiers Extendable Tray Zebra Textured Printing Professional Aluminum Cosmetic Makeup Case With Mirror




This elegant Zebra patterned makeup box with a silver aluminum finish is great for beauty professionals. It has a top compartment with a wider opening for convenient access and adjustable drawers. The overall dimensions of the case are 14.5" x 9.5" x 19".

Under the case lid, there is a removable mirror

The heat-resistant exterior material keeps the case cool and your cosmetics safe.

Retractable/telescoping handle for added durability, inline skate wheels for easier rolling Handle is made of heavy strong material for improved comfort and grip

Four drawers with an aluminum finish

The Interior is simple to clean

Brushes and other cosmetic items may be attached to the front lid with a rubber band


Additional security is provided by locks and keys