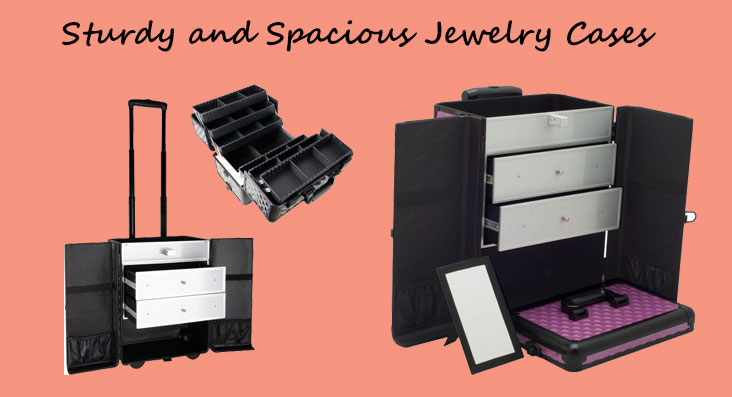 If you are a traveler who is fond of trying different jewelry with every outfit, planning to attend any special event that needs you to store your jewelry like rings, necklaces, cuff links, earrings, etc in an organized manner then you can try jewelry cases available in different designs. Also, it will help you get rid of the frustration created due to knot of bracelets/ necklaces, etc for which you have to spend hours together to sort out.
Fortunately, you will always find a case for your jewelry storage needs as there are different varieties of jewelry storage cases available in the market.
Organize your stylish jewelry stuff easily
Ideally, the stylish jewelry stuff includes watches, valuable gems, rings, chains, baubles, trinkets etc. These jewelry items can be stored in modern or conventional jewelry boxes organizers easily.
Irrespective of how you want to store your jewelry pieces for example storing them together or keeping bracelets and necklaces free of tangles, or store the rings in a different section, the latest jewelry cases help you fulfill your storage needs without compromising on your expectations.
Fashionable jewelry cases available in multiple designs
You can find a range of trendy jewelry boxes available in different sizes, shapes, and types. Yes, you can also get a jewelry box that comes in designs for different surfaces
Tabletop

Wall-mounted

Floor

Portable
A lot of modern and conventional jewelry boxes are made to save your space and hence can be mounted on the wall.
Such designs are useful to store bracelets, necklaces and also earrings. These boxes include mesh designs along with hooks, bars, and also an extra shelf for extra storage.
The portable jewelry boxes are ideal for travel purposes. You can pick the one you want from different styles made in
Wood

Metal

Porcelain

Leather

Plastic etc
You can browse the internet to find stores that help you shortlist your search for latest as well as contemporary jewelry boxes along with the helpful tools that categorize them by different attributes like type, finish, price, storage etc.
Luxurious and stylish Jewelry Organizer
Some luxurious materials used to craft jewelry organizer gives a dynamic and stylish look to these organizers.
Certain royal materials that add to the glamour of these jewelry boxes are faceted glass, reflective mirror, rich leather; attractive metallic accents etc enhance the overall looks of these stylish boxes. Not just the style and royal looks, but these makeup cases are also designed smartly to keep your jewelry organized and for safe storage.
Traveling with your jewelry becomes easier
No more hassles while traveling with your jewelry like earring, watches, rings, necklaces etc. Now, everything is quite convenient and well-organized with modern-day jewelry boxes.
These boxes are portable that accompanies a handle on the top and add a fashion statement to the luggage.
They are available in various shapes and sizes and prove to be the perfect set of jewelry storage piece to be carried during the travel.
Irrespective of the size of the jewelry collection you own, the modern/contemporary jewelry boxes are a must-have to store your precious jewelry tidy, neat, and organized so that you can find them easily when needed.
Suit all your storage needs
You would enjoy having a jewelry case as you will get to enjoy wearing every piece of jewelry as and when required.
When organized properly, you would be able to see all the jewelry pieces you have and none of them settles at the back of any corner in the box.
You will find jewelry boxes with hooks, drawers, detachable trays, and ring rolls, compartments for cufflink, and hooks for necklaces, earring holders along with zipper pockets that come with some portable and stylish boxes that are ideal for travel.
The modern/contemporary jewelry cases are not just stylish but also ensure secure storage and durability.
Buying jewelry boxes online
You can find trendy Jewelart Box to gift or use it to store your jewelry. It is a compact box that is easy to open & close. These boxes are also found in different craftwork right from traditional to modern. You can find wooden beading used to make the box durable.
It is ideal for storing your cosmetics, toiletries, and jewelry. It comes with a sturdy design and easy to hold grip handle so that you can carry it comfortably. The box also comes with a lock to secure your belongings.
It is the ideal choice for salon professionals and home use. The box is basically like a vanity case that can be used to hold small jewelry items. It can also be carried during the travel as it is light in weight and stylish too.