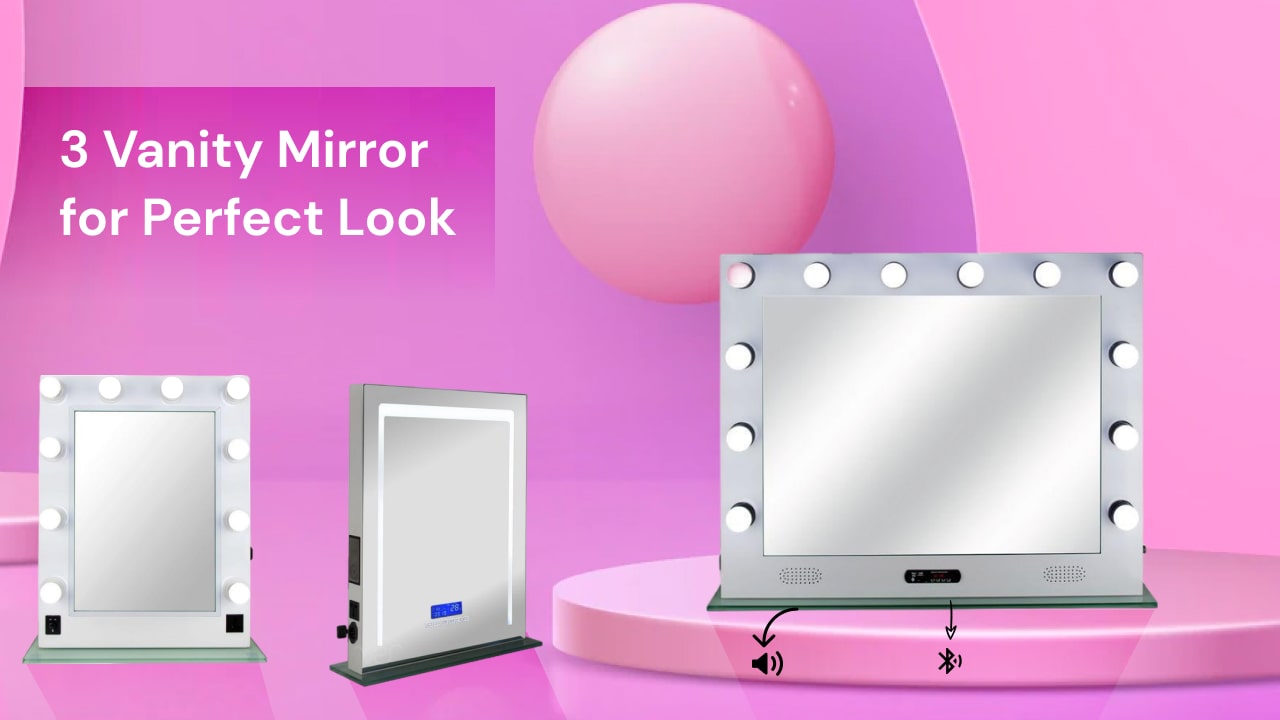 Discovering the exemplary mirror can make or break the overall look and feel of your bathroom sanctuary. Apart from their conspicuous function, mirrors are accent pieces that liven up bathroom spaces by completing the illusion of a larger space and improving the lighting. Bathroom mirrors have persisted to develop, from the earlier styles made from obsidian stones to Bluetooth mirrors which are as captivating as they are contemporary chic.
1) VL004 - Hollywood XL Vanity Mirror
Key Features:
12 Dimmable LED Light

Metal Body

Glass Base

Vanity Mirror with Bluetooth, USB, Speakers, and MP3

It has clear crystal mirror glass

Replaceable LED lightbulbs
VL004 - Hollywood XL Vanity Mirror is your top selection because of its gorgeous design, specifications, and affordable price. Our vanity mirror's minimalistic square-based design - Created with a soft stainless steel finish that adds glam to any room.
What do shoppers Love about our product? Product design, quality, durability, and affordable pricing. This makeup mirror with Bluetooth measures 33" x 6" x At 26 inches, it fits most tables, desks, and dressing tables.
You have to place this vanity mirror near the plug socket because you have to plug in the wire in the switchboard to turn on the lights. Overall this product is specially designed for Makeup artists who use Vanity mirrors for Makeup on daily basis. It is one of our best products. You can get it at an affordable price.
It is a beautiful makeup mirror and has clear crystal glass. It is called a Fully surfaced Hollywood mirror. It has two hooks on the backside for a wall mounting setup. If Led bulbs are damaged - It has replaceable Led.
It also facilitates WITH BLUETOOTH, USB, SPEAKERS, AND MP3. This mirror gives all kinds of facilities in one mirror. You can purchase it from Just Case
2) VL005 - Frameless Hollywood Vanity Mirror
Key Features:
Frameless

3 Temperature LED Light Touch Sensor

Metal Body and Glass Base

Hollywood Vanity Mirror with Bluetooth, USB, Speakers, and Digital Display

Overall dimension: 33" x 6" x 26"
VL005 - Frameless Hollywood Vanity Mirror is the eventual make-up mirror with a beautiful creation. The latest design is the ideal decoration for your home or your professionalism. It permits you to connect your mobile device via Bluetooth.
It will be an excellent gift for your wife as well as your daughter. We deliver Excellent After-Sales Service for All Shoppers. It has LED lights along with a touch sensor. The touch sensor button and Smart sensor touch design for easy to use. Wireless Bluetooth speaker to play your favorite music or anything on youtube or other streaming applications. Full surfaced Hollywood mirror.
It has Bluetooth, and USB as well as speakers. Upgraded Bluetooth speakers for better sound quality. Upgraded mirror - It is an elevated high-quality mirror with a touch sensor as well as a touch sensor button. Uses - It is appropriate for your bedroom, dressing room, or makeup studio. Great for an experienced makeup artist. Bluetooth, Audio Speaker- This mirror has a Bluetooth speaker function. Attach your phone to the speaker and relish your favorite music. You can also switch the songs simply.
It has a smart touch sensor design and adjusts the brightness on the screen by just simply turning on/off the light. Using this you can reduce and increase your Led brightness. It has a Wireless Bluetooth speaker that connects with any device and enjoys your favorite music from your device.
3) VL008 - Glass base Hollywood Vanity Mirror
Key Features:
White 10 Dimmable Light Bulbs

PC Body and Glass Base

Rectangle glass base which can be detached

Ideal for tabletop setups

Replaceable LED light bulbs

It has Front mounted power outlets for chargers and beauty accessories
Moving the Last product on my list is, VL008 - Glass base Hollywood Vanity Mirror, the tiny portrait-oriented framed mirror with lights. This 10 LED bulb vanity mirror with LED Lights is a fantastic looking piece for anyone with a black theme to their bedroom, makeup station, or beauty salon.
While setting up this piece, the mirror size did look slightly smaller than we imagined from the pictures we saw online. In person, we see that the frame takes up much of the space of the entire mirror volume. When measured it is 21.25" x 6" x 25.75".
It has Rectangle glass. It has tabletop setups. You can place it anywhere where you want to place it or you can take it with you when you're traveling. It also has two hooks on the backside for wall mounting. It has 10 dimmable LED lights Hollywood vanity layout delivers ideal brightness for makeup.
Wrap up
Mount them on the wall or place the vanity makeup mirrors on the table for a compact view of faces. In this way, you can modify the brightness according to the day or night. Also, a smart mirror counts the required flair to a dull dresser, so go for it! You can also refresh yourself using Bluetooth- listing your favorite songs or streaming anything online. You can purchase our Vanity mirror with Bluetooth, and Hollywood mirrors with LED from justcaseusa.com.