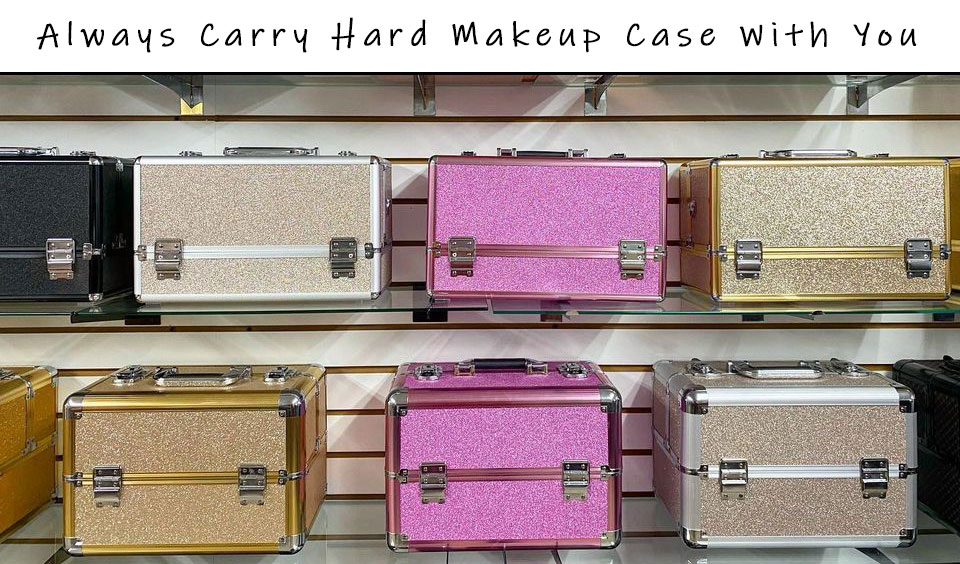 While planning a holiday we often think of a memorable journey with lots of luxury, fun, comfort, and clicking pictures and selfies to create our travel diary. If you are a professional makeup artist or a performer you travel for your profession where you want meticulous arrangement of planned work, where you put in your efforts to perform and look well if you are a performer. And if you are a professional makeup artist you want to get the best of the shades you can give to your client, or you want to glam up in an artistic way to get the best out of your makeup skill with your cosmetic kits.
So, whether you are a professional makeup artist, performer, office employee, or makeup enthusiast you need to carry your makeup in an organized manner. For carrying a makeup case while traveling you must opt for the hard makeup case. You can opt for a protective case with wheels if you are carrying a sizable proportion of cosmetic tools with you for convenient portability.
You might be thinking about what makes the hard makeup case so popular and preferable among all makeup enthusiasts. The features, comfort, and usability of the range of hard makeup cases is the key element that people are resorting to it.
Whether it's a long journey or a short journey or you are moving within the city from one place to another the protective case with wheels is best suitable for you to carry your cosmetic tools to keep it safe and well managed. You can carry professional makeup brush cosmetic tools with you with a hard makeup case to give you a complete set of your cosmetic belongings.
The general features of the professional hard case can be listed below:
Reinforced steel corners

Extendable Trays

Mirror

Professional makeup brush cosmetic tools

Highly durable protective material

Heavy duties handle

Retractable/telescoping handle

Substantial wheels
The features of the hard makeup case may vary from product to product as well as the product range because a wide range is available with different designs, models, sizes, and colors to cater to different categories of the customers. You can choose the best suitable model and design for you as per your requirements and budget too.
Hard makeup cases are perfect for you to store a wide range of cosmetic items as it comes with different compartments and large storage space. The list of cosmetic items you can store is as per below,
Eye-Shadow Palettes

Hair Dryer

Eyeliners

Lipstick

Mascara

Professional makeup brush cosmetic tools,

Eye-Shadow Brush

Face Brush

Smudge Brush

Lip Brush, Lip Balm, Lip Gloss

Tweezer

Nail Clipper, Nail Polish, Nail Filer,

Blush

Hairstyling tools
Carrying a hard makeup case along with style and comfort awards you many advantages that helps you in many ways.
No More Forgetting
Having a well-organized hard makeup case makes you remember all the cosmetic tools you might require at your go. For instance, you may forget your favorite brush on the table in a hurry but having a makeup case with a professional makeup brush cosmetic tool may help you to keep it in place and you don't need to remember it altering the chances of forgetting it.
Categorize
With its fair enough storage capacity and extendable trays-dividers, you can categorize your cosmetic kit as per the usage and cosmetic range. So, keep your hands falling on the tool or color cube you need without wasting your time looking around for it to find it.
No More Spilling
Spilling the beans is a cool idea but spilling your favorite cosmetics is not. To avoid any damage or spilling of the cosmetics opt for a makeup case that serves your purpose to keep it safe and organized.
Safety Comes First
As traveling across with the pile of makeup items is not at all a good idea without keeping it safe and secure. To provide safety and security for your expensive and favorite makeup items hard makeup cases are lashed with reinforced steel corners and durable material. The exterior material is heat resistant that keeps the temperature of the interior compartments cool and in control to avoid any damage to the cosmetic items.
Don't Compromise With Your Comfort
Comfort is something you never want to make a compromise within every aspect of daily life. Carrying a whole lot of cosmetics may worry your shoulder muscles. To keep you and your shoulder relaxed you can opt for a protective case with wheels that allows you to move your case with ease giving convenient portability to the makeup case. The heavy-duty wheels are capable of carrying heavy weights of cosmetic tools without making you compromise with the extent of it due to weight.