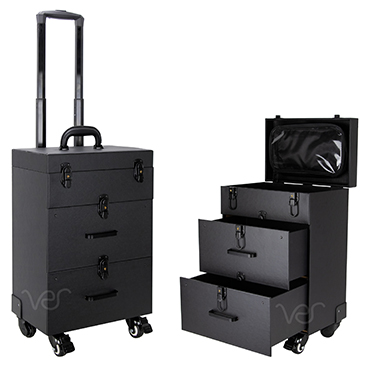 As a professional makeup artist or beautician who is always traveling and moving from one place to another with a bunch of cosmetic tools, it's expected of you to have good quality professional nail polish storage cases that will enable you to take all of the stuff you need with you organized.
You need to understand this, it's not enough to take just any case or bag along with you to carry nail polishes but that you need a nail polish holder bag designed specifically to hold, store and carry the nail polishes.
Why Do You Need A Professional Nail Case?
You won't understand and realize the importance of that one nail polish until you have to scramble through your bag or case to find that specific nail polish. And this is the moment where you will realize the importance of having a good quality nail polish holder bag or case.
While moving from one place to another your bag will observe many shocks that may damage the nail polishes stored together in an unorganized manner, all together in a pile.
If you are a professional artist or stylist, we assure you need an organizational quick fix like a rolling nail case for your nail polishes. In today's rapid life no one has time to wait for their nail polish to get found and scramble through the bag to find the favorite or required nail polish. It's high time for you to take the initiative to get comfort and style by investing in a nail polish organizer.
No matter how tightly one tries to secure every nail polish bottle, a leak is bound to happen. The nail polish holder provides you cubes and a holder to store all the nail polishes separately and in an organized way.
Also, it helps in preventing any type of damage that may happen due to piling all nail polish bottles together in an ordinary bag. Besides it, a professional nail case makes you look professional and a dedicated artist with its stylish and impressive design and style.
Nail Cases On Wheels
Though there are different types of nail polishes available to store and organize the nail polishes, nail cases on wheels are dominating the trend. Rolling nail cases are very popular among professionals and beauty enthusiasts due to their multi-functionality, style, and design.
Trending Nail Case On Wheels
The black matte nail case is on a whole different level. The amazing detailing and functionality of the case are amazing. Rolling nail cases are the perfect and best nail case holder bag as it is spacious, durable, stylish and with different sized compartments perfect for all sorts of products and tons of room for organization.
That is a traveling bag that has a lot of rooms or spaces for your nail polishes, of course, that can house any other necessities.
The ideal professional rolling nail case designed by JUSTCASEUSA possesses below properties and specifications,
360 degree rolling 4 wheel system with stoppers

Beautiful new black leather-like finish

Retractable/telescoping handle for extra durability

Heavy-duty handle for added comfort and grip

Top lid with a removable clear bag to store accessories

Removable liquid foundation or nail polish holder

Two bottom slide-out drawers for extra storage

Lock and key system for added security

Different Dimensions Of Compartment

Can House Huge Number Of Nail Polish Bottles
Advantages Of Professional Nail Storage Case
Apart from bestowing comfort and style, a nail polish holder bag gives several advantages to the one carrying it.
1. Time Saviour
It is easy to carry the nail polishes in a single and dedicated case, where you don't need to waste your time in finding the nail polish now and then.

Also, you don't pack and unpack the case with every assignment, as you are having a dedicated case where nails are stored and ready to carry anywhere without forgetting any of them.
2. Easy Transportation
The rolling nail case provides you comfort and mobility as it is equipped with 360 degree rotating wheels that provide smooth mobility and are easy to handle.

Heavy-duty telescopic/retractable handle provides extra grip and comfort while traveling making it more comfortable for you to move it from one place to another.
3. Durability and Easy Accessibility
With different compartments and large storage space, it is easy for you to access your favorite nail polish without wasting time.

Also, with different compartments, you can categorize the nail polishes that help you in finding them with ease.

Having a good nail polish holder prevents the nail polishes from getting damaged or leaked. The outer durable material also protects the stored items from getting damaged.